Dr Prasanth Pillai ( Dr Prasanth Pillai Dental)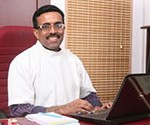 Dental Specialist Oro-Maxillofacial Surgeon & Implantologist, Dept. of Dentistry & Oro-Maxillofacial Surgery – Saraf Hospital Kochi, Fellow – Indian Board of Maxillofacial Surgeons.
Has been using the internet for healthcare, patient education, better compliance & marketing for many year,long before many established players of today started to explore the options. He is also an internet entrepreneur who has a network of more than 100 plus websites and web portals developed and managed fully by him under the banner of PIK or PORTALS IN KERALA. Many of them are not even for healthcare. He is also one of Kochi's and Keralas most established dental practitioners, Implantologist and Maxillo facial surgeon. He has a generation of dentistry in his family before him. Has been treating international patients for many years now and has an international patient base which second to none when compared to his domestic patients.