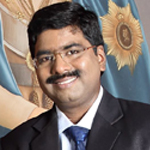 Dr.Saravanan Lakshmanan
Founder Director, ARC International Fertility & Research center
---
The Founder Chairman & MD of Abhijay Hospital / ARC International Fertility & Research centre. He has dedicated his life to medical profession. Abhijay Hospital was started in 2004 in Chennai as a Primary care facility . Dr.Saravanan Lakshmanan & Dr.Mahalakshmi Saravanan are the FIRST Generation doctors in their community. With consistent dedicated, focused hard work, they have uplifted the facilities of Abhijay Hospital and achieved a tremendous growth in 1 decade. The hospital has catered over 100,000 outpatients and has successfully performed 8000 major surgeries in various surgical specialties with 12000 inpatients.Systematic Approach, Clear transparent patient care and strict adherence to medical ethics have gained a very good reputation and become one of the best Hospitals in Chennai.
The Hospital is now a multispeciality and Super specialised Infertility centre with more than 100 beds and 2 Inhouse apartments ( having 22 furnished deluxe houses) for International and domestic clients. The Doctor couple have complimented each other is their specialization.His successful career is because of his approach, patience in listening and skillful management. He has completed his Fellowship in Clinical Andrology and specialised in treating male infertile partners. His hard work has fetched a GOLD MEDAL in his Embryology programme and received it from His Excellency, Honourable Governor of TN Dr. Rosiah. He is now a multi faceted and multi disciplinary personality in medical field. His vision is to make our country recognized globally on research and treatment in IVF
Chairmans Mission Integrating health care delivery systems. Enhancing Medical & Fertility tourism care and standards. Clinical research in core medical specialities & infertility in association with ICMR. Delivering treatments based on research from our country. Make our country globally recognized for Medical care & Research.