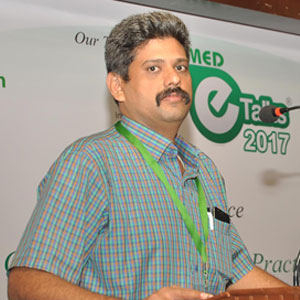 V. KRISHNAKUMAR
---
Competition brings out the best in me. I believe I can beat the competition through my perseverance and hard work. I never believe in looking back except to plan and have an optimistic outlook about life. Sincerity and completion of assignments with success is the another positive factor in both my career and personal life. Listening to people is the key factor in human relations and this quality has earned me a lot of good friends and contacts. Also this makes me a good team player.
Education
MHM (Master of Hospital Management) [1997-1999] ,MK UNIVERSITY,Tamilnadu
B.Sc (Chemistry) [1994-1997] MK UNIVERSITY,Tamilnadu
Work Experience
Current Position :
CEO – ARMC IVF , Kerala
CEO – Premium care Polyclinic , Qatar
Promoter Director – Prunus Healthcare Services
Vice President - Operations for a Super Speciality Hospital, Coimbatore since 2010- 2013
As Chief Operating Officer for a Healthcare Group, Dubai (2007 – 2010).
As Manager – Business Development Officer for a 150 bed Multi Speciality Hospital Group, Salem, Tamilnadu. ( 2004 -2007)
Jr . Manager – Operations for a 150 Bed Multi Speciality Hospital Group, salem, Tamilnadu
Areas of Interest :
Hospital Administration
Hospital Marketing and Brand Building
Medical Tourism
Corporate Relations
Social development
HRM in Hospitals
Project Management
Inventory Management
Financial Management
Achievements
Key Player in establishing a super speciality Hospital at salem ( Tier II city in Tamilnadu).
Established the First Full Fledged Cardiac centre at salem
Organized National Level Events at Salem and coimbatore.
100% Revenue Increase for a Single Speciality Hospital within First year of Operations.
Established strong Relationship and Reputation in the Market
Successfully organized various Projects for the treatment of Poor People along with voluntary organizations.
Assisted in establishing Infertility centres ( Day care Model) at Kerala and Tamilnadu
Organised & Co-ordinated for various public events
Overseas Achievements
Established 3 New Centres and Pharmacies in a year at UAE.
Increase in Revenue nearly 50% in the existing centres.
Team Member in establishing Healthcare facilities in Dubai , Doha, Muscat , Abudhabi and other countries in Middle East.
Memberships
Member of Coimbatore Management Association
Member of Coimbatore Productivity Council