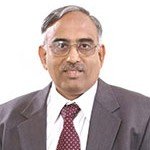 Mr.U.K.Ananthapadmanabhan
Director - Tenxhealth Technologies, Chennai
---
Mr Ananthapadmanabhan is one of the longest serving professional hospital administrators in India ever since 1983. His strong domain knowledge, deep insight into various ICT applications, design and implementation of IT solutions in large hospitals has been his forte. His simple, cost-effective and yet path breaking IT solutions have earned him leadership roles and invitations to share his experience in various technical forums.
A passionate teacher and writer, he believes that IT can largely improve quality, productivity and service delivery in Indian hospitals.
In 1983 he switched over to Hospital industry to join the first corporate hospital in India, Apollo Hospitals. In 1990, he joined 800 beds, Kovai Medical Center & worked as the Group President (Operations &Projects) at Kauvery Hospitals Group,Trichy.He then moved on to become the Chief Operating Officer of the Continental Hospitals.He is currently working as the Group President for the Rainbow Hospitals Group in Hyderabad.